Courses
A Course is a group of Lessons.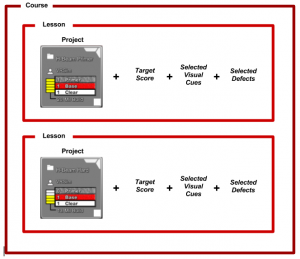 Lessons
A Lesson is a Project with a Target Score assigned and the added ability to control which Visual Cues and Defects users have access to while performing the Lesson Project.  A Lesson exists as part of a Course.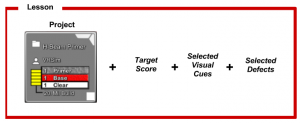 Default Courses
SimSpray comes with a robust set of Default Courses.  These Courses are available in Curriculum or Lesson Mode.  Default Courses are locked and cannot be changed.  Instructors may create Custom Courses and copy Default Courses to change Lesson content.
Custom Courses
Custom Courses are Courses created by an instructor.  Custom Courses act and look like Default Courses but are not locked.  Instructors can edit them.  Managing Custom Courses is done through the Admin Portal.  
The Courses and Lessons Page
To perform a Lesson use Curriculum or Lesson Mode and select a Lesson from the Courses and Lessons Page.