SimSpray™ offers a variety of Modes (learning paths) to help users learn skills:
Tutorial

mode provides interactive guidance on fundamental paint skills and how to use key SimSpray™

 features to develop those skills.


Activity mode (SimSpray Powder only) provides users the ability to test specific skills in an interactive, controlled environment.


Lesson mode provides a structured environment to test user skills.  Users perform Project, Tutorial, or Activity Lessons and their performance is tracked.


Free Paint, Free Blast, and Free Coat modes offer Users the most options and the ability to practice their skills without being tracked.

Not all Modes are available for all SimSpray™ Products.  
The Modes Page
Users select the Mode they want to use from the Modes page.  Tap the Proceed button on the Home page to access the Modes page. Then tap the Mode you want to select it, and tap the Proceed button.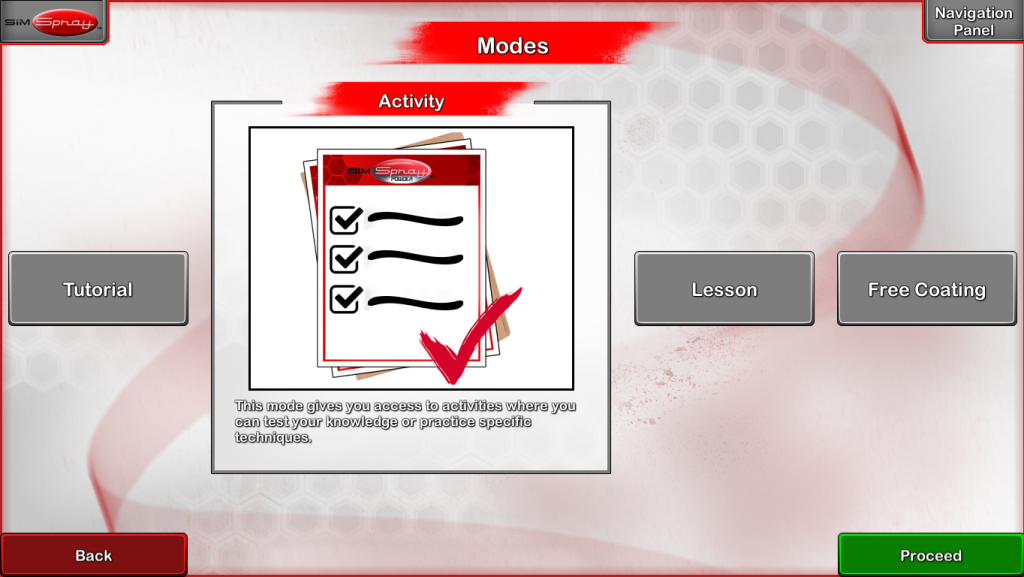 Note: Unavailable Modes are dimmed and cannot be selected.